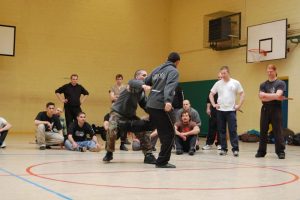 Age off course is a relative thing and it does not take too much to be considered young in the Systema community (hair for example). Adam and Brendan Zettler, 'the Twins', prove however that you don't necessarily have to be over forty or even thirty to be an excellent teacher.
They checked off an impressive list of topics (combative body, joint breaks on the move, multiple opponents, chains and knife). Starting with basic work in each topic, working towards work with more speed and pressure. Through the different topics, the Twins showed a clear thread in putting focus on how to move the body and continuous movement when working.This solid base was complemented with good action demo's, where willing victims were sacrificed voluntarily for our greater good.
For me personally its nice that six years after my first seminar (Vlad Kortrijk 2009) I finally have the feeling that I've learned enough basics to do some proper training. And I will be very happy to see the Twins in Groningen, the Netherlands 23-24 January 2016.