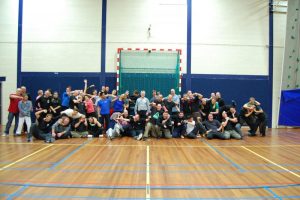 This time a blogpost about a seminar from a different perspective: organizing.
We had been playing with the idea already for some time: organizing a seminar ourselves. It only seemed fair after having been participants so often. Some deliberation and weighing of the pros and cons (of about 1,5 year) later we decided to go ahead. After all, in itself organizing a seminar seems simple enough.
Get instructor
Get date
Get gym
Get participants
Make sure people know stuff
1. Get instructor
There are many good instructors in Systema, even if you stick to one style. Nevertheless, we managed to make a choice, although we did not manage to keep it to one. We did consider inviting just one twin but we could not bare to break them up. So both Twins it was.
2. Get date
Getting a date should not be too difficult, but with all the European seminars it takes some planning. First of all we wanted to be on time, secondly we did not want to interfere with other seminars. As the spring and autumn tend to be the busiest times we decided winter was a good idea. After almost picking the same weekend as Eurosonic (huge music festival in Groningen) we decided on 23-24 January. This was an excellent date, even though it meant I worried from the start about winter weather making it impossible to let the plane take off, land or to pick up the Twins from Schiphol. And not without reason. Two weeks before the seminar the north of the Netherlands froze over. No trains going, ice rain in the North, negative advice to go on the roads. I was already imagining planes iced over and unable to come or go. In the end all that went wrong was that we had the wrong landing times and while the Twins were already landing in Schiphol we were still two hours away drinking tea at my parents'……
3. Get gym
One might think getting a gym 9 months in advance should not be too much of a problem, as it is enough time to get pregnant and deliver the baby in that period. I guess it is very much dependent on the country and place, in Groningen there are really only two places to rent a gym. The university sportscentre (in June): "I don't know yet, maybe you can contact us again in October". And the municipality: "What did you mean exactly with the whole day? Doesn't really matter, it will be from 12.30." All said and done we started on 12.45 on Saturday, which in the end wasn't so bad after all.
4. Get participants
Now this is really the hard part. When I started to do Systema, to have two seminars in reasonable close distance a year was quite a lot. Nowadays me and Bart don't have proper holidays because we spent all our money on seminars (and even though we are not rich, we have more than enough money).
So how to get a lot of participants if there is so much choice? Just ask people….. a lot….. and then remind them that they said they would come…. and again. And we had a lot of help with the promotion from a lot of people. I guess it helps being a funny Systema couple as well ;).
Nevertheless, you won't know if you'll have enough participants until you have them. In this case we got them plus a little extra.
5. Make sure people know stuff
The one warning I got from other people organizing seminars is that you spent a lot of time answering questions, so I figured making sure people are well informed would be worth the trouble. Homepage, newsletters, confirmation mails et cetera. As we received only few questions, I guess it was effective.So was it worth the troubles and the worries? Definitely! The seminar was really good, we had lot of enthusiastic reactions and all that's left to do is sorting the 1500 pictures……Big thanks to the Adam and Brendon for the excellent seminar, to all the participant for coming and Guido and Ritzo for helping out!!!